SoftRock V6.1RxTx Beta Version Pictures
These pictures are intended to be helpful for assembling the SoftRock V6.1RxTx transceiver.
Comment from Tony Parks on below pictures:
Hi Tom,
I need to mention to people that your pictures are of the pre-production RXTXv6.1 and are a little different than the production version of the circuit board. Also I note that you have mounted the brass heat sink arrangement with the nut below the board. My intent was that the brass screw head should be on the bottom of the board. The head of the brass screw needs to be filed down so that its height is less than 1/8 inch so that the board mounting hardware supplied in the kit will hold the board above a flat surface without the screw head making contact. Another thing is that you still have the source bypass capacitors mounted on the board which should be omitted in the production kit build.
Thanks and 73,
Tony KB9YIG
Click on the images to view them in high resolution (300dpi, about 2MB file size)
Bottom view: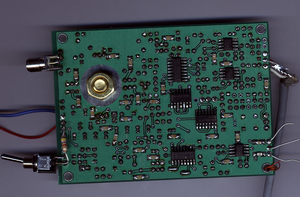 Top view:
That's it folks!
73, Tom DG8SAQ