Support Page for 18 GHz PLL / Prescaler
Last change: 28.11.2015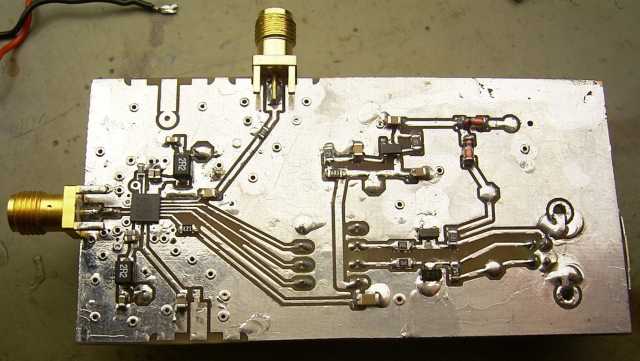 This prescaler designed by Andreas Zimmermann DH7AZ and myself is based on the Analog Devices chip ADF41020.
The design will be published in the Funkamateur magazine FA12/2015.
IMPORTANT NOTE:
The output capacitor of the MIC5205 voltage regulator (C3 in Fig. 3 on page 1294; FUNKAMATEUR issue 12/2015) should be a tantalum type with capacitance >2.2uF, otherwise the regulator might oscillate and interfere with the USB interface.
WICHTIGER HINWEIS:
Der Ausgangskondensator vom Spannungsregler MIC5205 (C3 im Bild 3 auf Seite 1294; FUNKAMATEUR Heft 12/2015) sollte ein Tantal-Elko mit einem Wert >2,2uF sein. Andernfalls sind Regelschwingungen möglich und die USB-Erkennung des ATTiny ist u. U. gestört.
USB DRIVER:
The USB driver is identical with the Si570 driver written by Fred Krom PE0FKO.
Local mirror download: PE0FKO-USB-Driver-Installer.exe
SOFTWARE:
Latest PC software and ATTiny45 firmware is available from: Software Download (version of 26.11.2015)
ATTiny45 Fuse settings: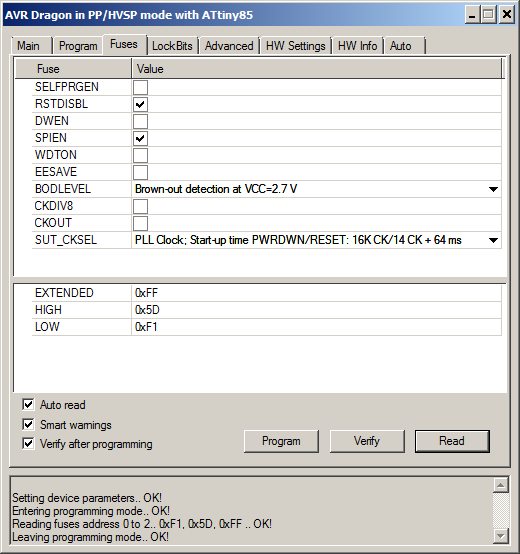 Feedback welcome!
73 Andreas & Thomas